The "Krishna Kamal" also known as "Passion Flower" is a pretty purple flower.
"Krishna Kamal" is an intricate flower.
The flower comprises five sepals and 5 petals. They are similar in appearance, surmounted by a corona of blue or violet filaments, then five greenish-yellow stamens and three purple stigmas.
I googled the scientific name for this flower, it is widely known as" Passiflora" and "Passion Flower".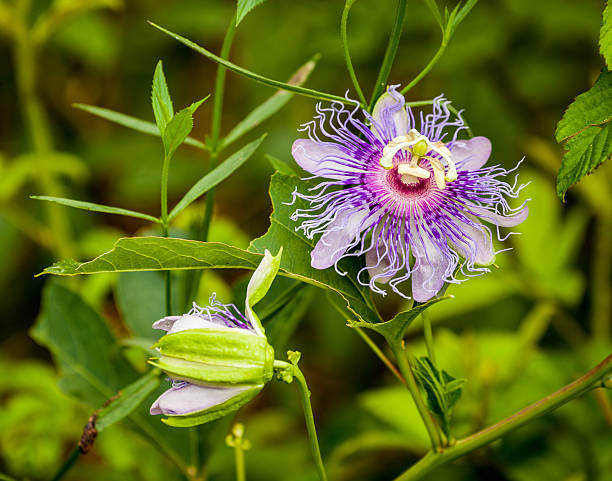 In India, this flower is known as Krishna Kamal or Mahabharata Flower.
The entire story of the epic "Mahabharata" is existing in this pretty purple flower.
The colour, shape, fragrance, leaves, every part of the flower is simply distinctive and beautiful.
Krishna Kamal resembles the Mahabharata –
There are about 100 purple petals, which represents each one of the 100 Kauravas.
The 5 yellow petals in the centre represent each one of the 5 Pandavas.
The green bulb in the centre represents the queen of the 5 Pandavas, Draupadi.
The three filaments represent the holy trinity of the three main gods – Brahma, Vishnu and Shiva.
The radial in the centre is the Sudarshan chakra, which is the divine weapon of Lord Vishnu. Lord Krishna is the eighth incarnation of the ten incarnations of Lord Vishnu.
Krishna Kamal holds major importance in both Christianity and Hinduism.
In Christianity, the Passionflower represents the suffering of Christ when he was crucified, as the corona of the flower looks similar to the crown of thorns worn by Christ.
Instagram :
https://instagram.com/dreamzandexperiences?igshid=MzNlNGNkZWQ4M

: "Krishna Kamal" flower and the Epic Mahabharata.
Facebook :
https://www.facebook.com/dreamzandexperiences/