Do you think you drink enough glasses of water every day?
Unfortunately, many of us do not drink enough fluids.
We all know that – drinking plenty of fluids is very essential for the body.
Water and other healthy drinks help us stay hydrated every day.
These healthy drinks are hydrating and are loaded with several important nutrients, including minerals that you may not get enough of from your meals.
Adding these 5 Healthy Drinks to your everyday routine will help you stay fit and happy.
These 5 Healthy Drinks can be even consumed during the fasting period.
I was fasting this Navratri for all 9 days, so I mostly had these drinks whenever I felt hungry or drained out.
Here are my 5 Healthy Drinks for a Happy You!!!
1. Coconut Water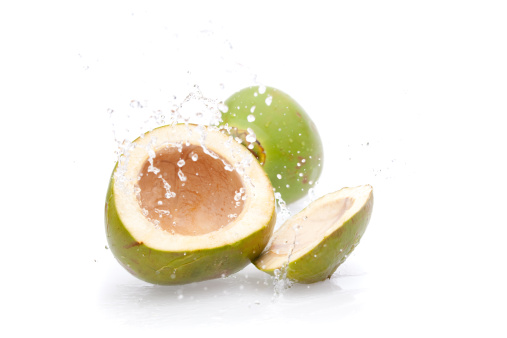 Coconut water is the clear water or fluid found inside coconuts.
Coconut water has a slightly nutty flavour. Even if it is sweet in taste, it is low in calories and sugar.
Coconut water contains potassium, sodium and magnesium. All these minerals are also known as electrolytes, which helps our body to replenish lost nutrients.
Coconut water is also a recommended drink to be consumed when you are not feeling well. This is because coconut water is nature-made and hence contains all the essential minerals that keep us healthy.
Coconut water is the best drink that can be taken or consumed after exercise.
Coconut water can be added to your healthy diet plan, as it helps you stay hydrated while being low in calories and being free of fats and cholesterol.
Coconut water is high in potassium, which helps lower blood pressure.
Coconut water is low in calories, making it a good and healthy option for those who like sweet beverages.
Coconut water can offer some relief and help flush your system.
Coconut water when applied directly to your skin can help fight acne.
Coconut water contains antimicrobial properties. Hence, consuming coconut water may help your antioxidant system by neutralizing the effects of free radicals, which makes your skin get rid of all the toxins.
2. Lemonade /Lemon Juice/ Nimbu Sharbat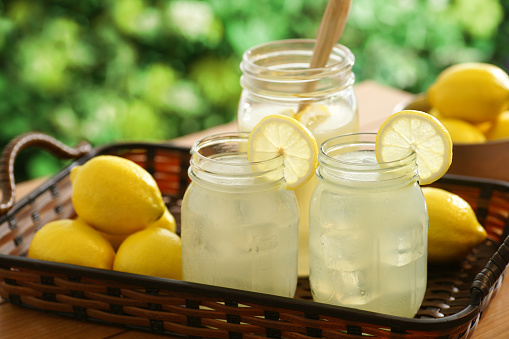 Lemon juice has countless uses, from culinary to medicinal.
Did you know that – Lemon juice is a natural cleaner and stain remover??!!
Lemon oil is used as a fragrance for perfumes, soaps, and skin creams.
Lemon juice helps virus prevention. When this juice is mixed with honey and ginger it becomes an effective cold treatment.
Antibacterial properties present in lemon juice can cure mouth infections like gingivitis. It also acts as a laxative in the digestive system.
Lemon juice is one of the richest sources of Vitamin C, which is one of the most important vitamins needed for a healthy body.
This vitamin helps in gum health, bone formation and connective tissue repair.
Vitamin C also helps the immune system fight infections and protects against free radical damage of cells.
A nice cool glass of lemonade or sweet lime juice is refreshing and soothing. It helps calm your mood and is a healthy drink for the stomach.
The best part is that lemon juice can be prepared easily and quickly at home.
A glass of water, a pinch of salt, a spoon of sugar/ honey and a freshly half squeezed lemon juice.
You can add soda or mint leaves to make it tastier !!!
3. Milkshake
Milkshakes are prepared using milk, fruits, ice cream and flavourful syrups.
You can top your milkshakes with everything – from chopped dry fruits to crunchy fruits or whipped cream.
While milkshakes are considered healthy, they are considered quite rich in sugar content.
You can always prepare your milkshakes with date, jaggery or honey instead of sugar.
Chocolate and banana milkshakes are the most famous flavourful milkshakes.
Milkshakes can be easily prepared at home.
Milkshakes are rich in protein, calcium and different vitamins like – vitamin A, B1, B2, B12 and D – which are extremely vital for the development and growth of our body.
Milkshake is one of the best ways to pour that vital glass of milk every day down your throat for the nutrients that milk provides.
You can make a dry fruit milkshake at home.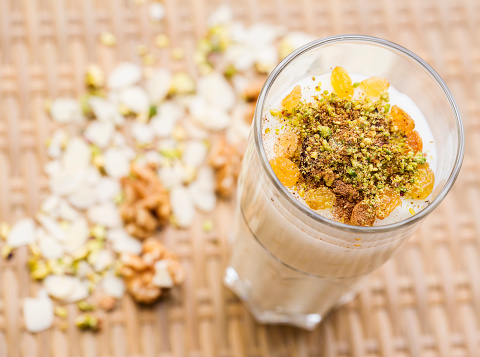 In a blender jar add –
A glass of milk
A handful of dry fruits/ nuts (cashew nuts, almonds, raisins, pistachios),
Add a few dates (remove the seed) (dates can be used instead of sugar)
A scoop of vanilla ice cream
A few ice cubes
Blend this mixture well and pour it in a tall glass.
Enjoy the nutritious and healthy Dry- fruits Milkshake.
4. Buttermilk
Buttermilk, in India, is well known as "Chaas", and is one of the best drinks in summer that provides relief from the scorching heat.
Buttermilk helps cure heartburn and also helps cure stomach indigestion as well.
Buttermilk churned at home is tastier, nutritious and healthy.
In ancient times, buttermilk was made from the sour liquid which was separated from white butter while churning whole milk to prepare ghee.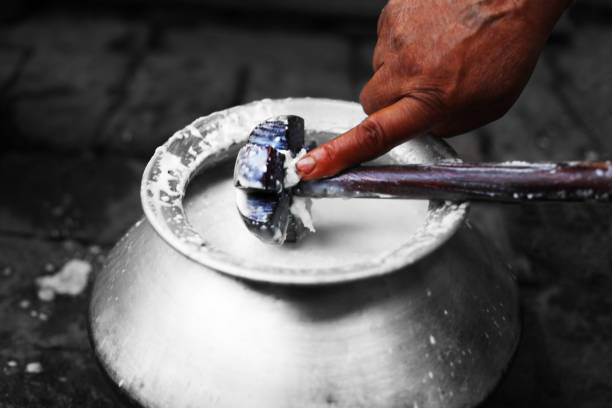 Buttermilk can be prepared at home using diluted curd and other Indian spices, to enhance its taste.
You can add spices like, green chillies, coriander leaves, jeera/ cumin seeds, some curry leaves and salt as per taste, into the diluted curd. Blend this mixture and a nice refreshing healthy drink is ready.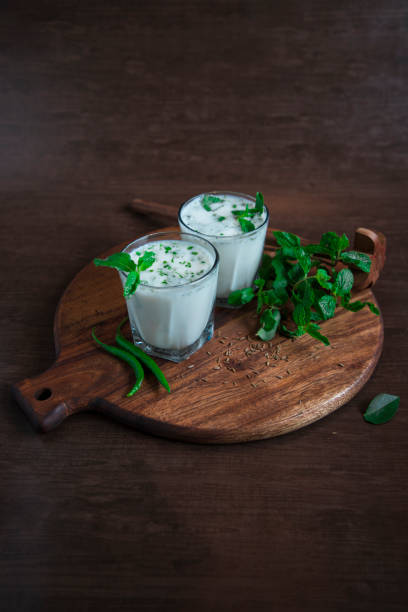 Drinking a delicious and healthy glass of buttermilk can help fight dehydration and fatigue.
Buttermilk is also a powerful source of probiotics. Hence, it is also considered a digestive drink.
Buttermilk has several health benefits. Buttermilk helps in digestion, as it can wash down the fats, that normally form a layer in the inner walls of your food pipe and intestines.
Having a glass of buttermilk every day will keep you hydrated.
 Buttermilk can cure acidity with the help of its condiments (jeera, coriander leaves, etc.).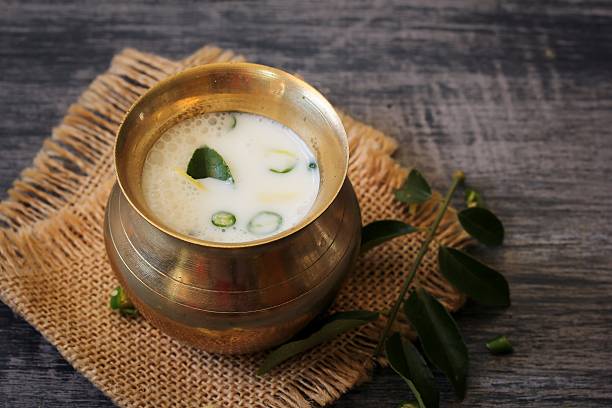 Buttermilk helps reduce the irritation in the intestine lining and helps in the proper functioning of the stomach / digestive system.
Buttermilk is rich in bioactive protein that has antibacterial, anticancer and cholesterol-lowering properties.
Drinking a glass of buttermilk daily will help lower blood pressure.
5. Kokum Sharbat / Juice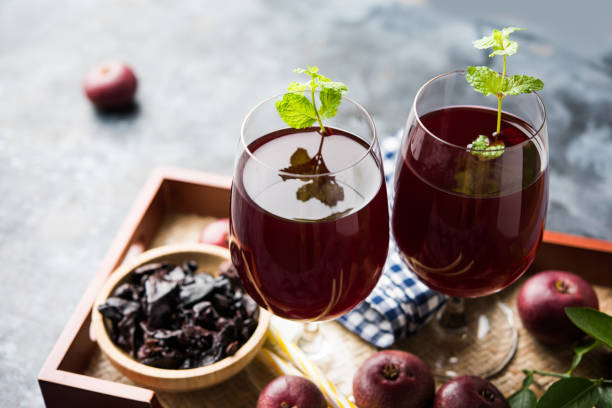 Garcinia Indica, traditionally well known as "Kokum".
Kokum is a rich antioxidant and is a famous summer drink.
Kokum is also known as "Vrikshamla" in Ayurveda.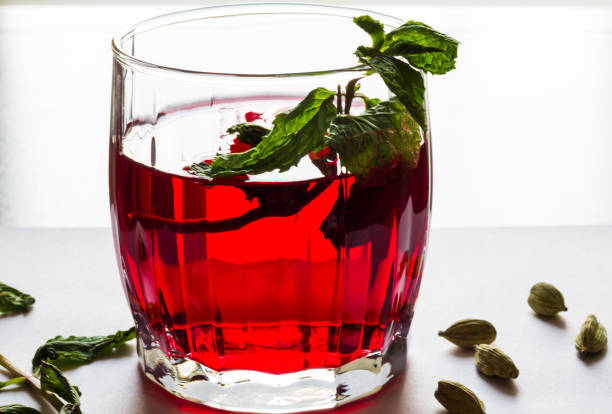 Kokum is low in calories and fats. Kokum is rich in fibre.
It also contains calcium, iron, potassium, magnesium, vitamin A, vitamin B3, vitamin C, folic acid, manganese and zinc.
Kokum contains anti-bacterial and anti-viral properties. So, kokum is used to cure bacterial and viral infections.
Kokum has been proved to cure intestinal allergies and has a cooling effect on the stomach.
In India, Kokam is mostly consumed in the form of kokum juice or kokum sharbat.
Kokum Syrup recipe: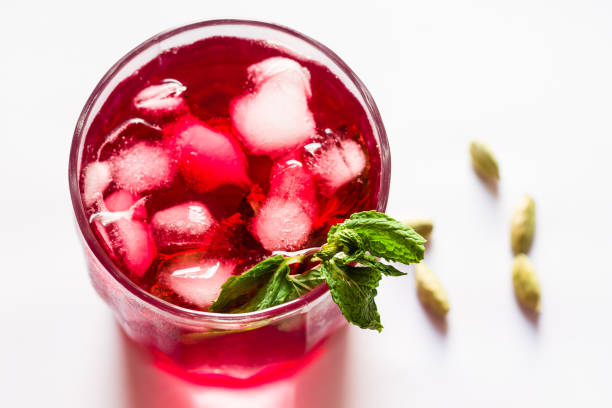 Wash a cup of dry kokum in water.
Soak the dry kokam in 2 cups of water for 3-4 hours.
Blende this soaked dry kokum.
Grind the mixture of kokum with some of the reserved water to a smooth mixture.
Strain the kokum mixture and keep it aside.
Boil 2 cups of sugar with the remaining reserved water till the mixture turns thick.
Add the kokum mixture to the sugar syrup.
Add powdered cardamom and cumin powder to the kokum – sugar syrup.
Mix well and store the syrup in an airtight bottle or jar in the fridge.
Take 2 spoons of the Kokum sugar syrup, add a glass of water and some ice cubes.
Your refreshing Kokum juice/ sharbat is ready.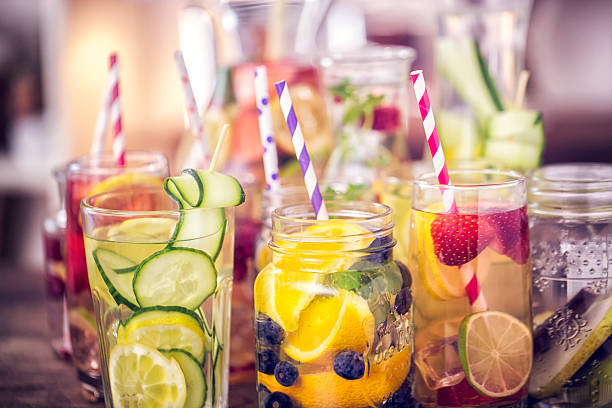 These 5 Healthy Drinks
will keep you hydrated and
boost your immune system.
Do let me know
your favourite healthy and refreshing drinks,
in the comments section box below.