As with other characteristics of Indian culture, different forms of dances got invented in different parts of India.
Dance in India includes many styles of dance, generally categorized as Classical Dance and Folk Dance.
These dance forms got established according to the local traditions. They inculcated origins and basics from other parts of the country and created a new variation or form of dance.
Origins of Dance in India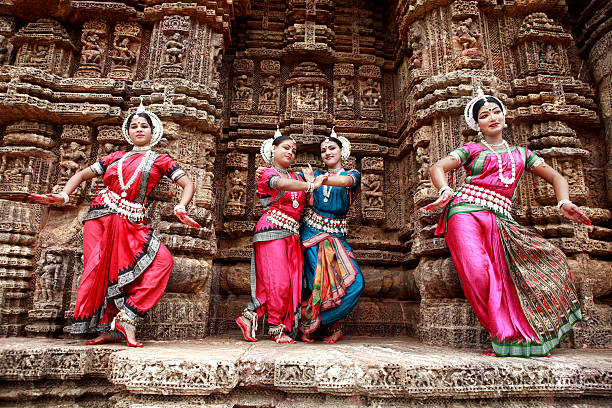 The UNESCO world heritage site at Bhimbetka rock shelters in Madhya Pradesh are the earliest Neolithic and Palaeolithic cave paintings that show dance scenes.
We can see that the origins of dance in India go back to ancient times.
Several sculptures found at Indus Valley Civilization archaeological sites show dance figures.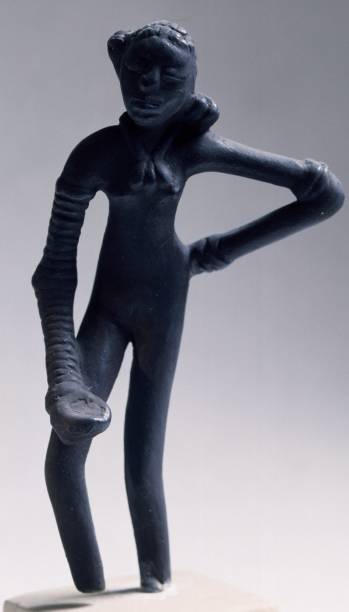 The Dancing Girl sculpture shows a 10.5 centimetres (4.1 in) high figurine in a dance pose. This sculpture belongs to 2500 BCE.
Even the Vedas assimilate rituals with performance arts, such as a dramatic play, where not only praises to gods were recited or sung, but the dialogues were part of a dramatic representation and discussion of spiritual themes.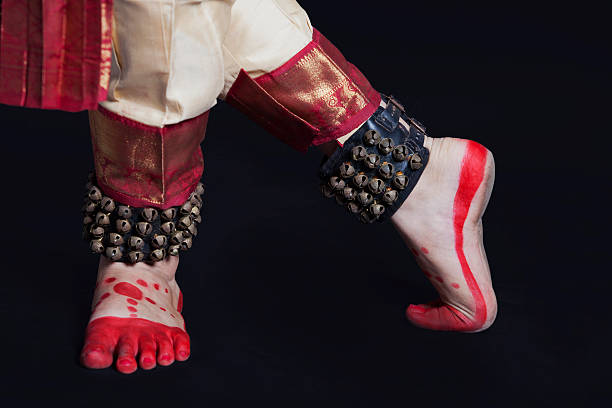 In the Shatapatha Brahmana book, in chapter 13.2, the Sanskrit verses are written in the form of a play between two actors.
The indication of the earliest dance-related text is in Natasutras.
It is estimated that the Natasutras have been composed around 600 BCE. The complete manuscript of this text has not survived into the modern age.
Naṭya Shastra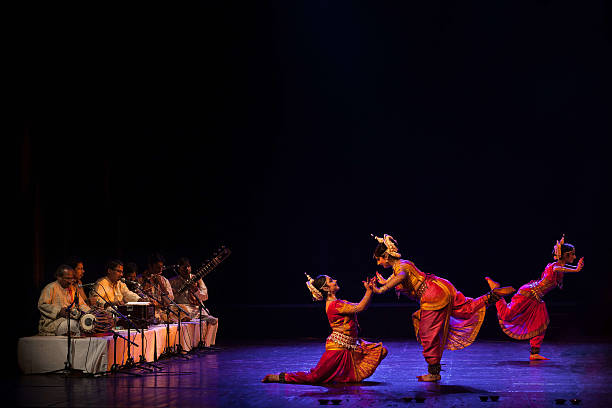 "Naṭya Shastra" is a Sanskrit text or thesis based on performing arts. This text is credited to sage Bharata Muni.
The first complete compilation of "Naṭya Shastra" is dated between 200 BCE and 200 CE, but evaluations suggest that they vary between 500 BCE and 500 CE.
The "Naṭya Shastra" text consists of 36 chapters with a collective total of 6000 poetic verses. All these chapters and verses describe the performance arts.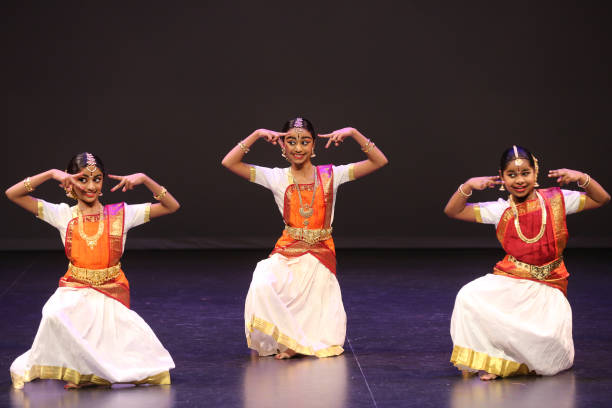 The subjects in the "Natya Shastra" text are:
• Dramatic Composition
• Structure of a play
• Construction of a stage
• Genres of acting
• Body movements
• Makeup
• Costumes
• Role and Goals of an art director
• Musical scales
• Musical instruments
• Amalgamation of music with art performance.
The "Naṭya Shastra" is notable as an ancient encyclopaedia or thesis on Arts.
This text has played a major role in influencing Dance, Music and Literary traditions in India.
"Naṭya Shastra" is famous for its description of the artistic "Rasa" theory.
"Rasa" highlights the entertainment that is the desired effect of performance arts. But, entertainment itself is not the primary goal of Indian dance forms.
The main goal of the Indian dance forms is to transport each individual in the audience into another parallel reality, which is full of wonder.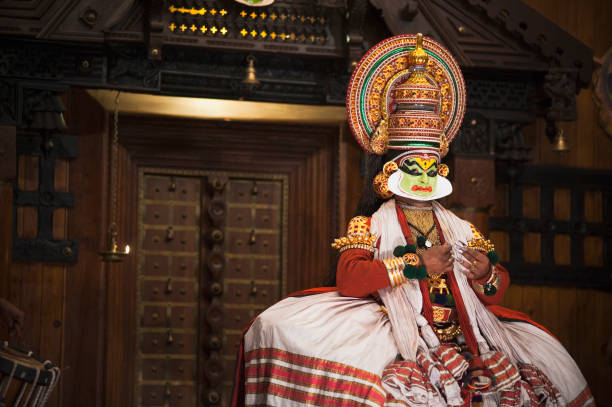 In this parallel reality, the individual (audience) experiences the core of his consciousness, which will help him understand his duty morally and spiritually.
"Naṭya Shastra" has even inspired secondary literature such as the Abhinavabharati.
Abhinavabharati was written in the 10th century, by Abhinavagupta. It is a classic Sanskrit Bhasya, which consists of reviews and commentaries.
The classic text of dance and performance arts that has survived is the text "Natya Shastra", credited to sage Bharata.
It is systematically stated in Natya Shastra, how Brahma created Natya-Veda. He created the Natya – Veda by taking :
"Word" from the Rigveda
"Melody" from the Samaveda
"Mime " from the Yajurveda
and "Emotion" from the Atharvaveda.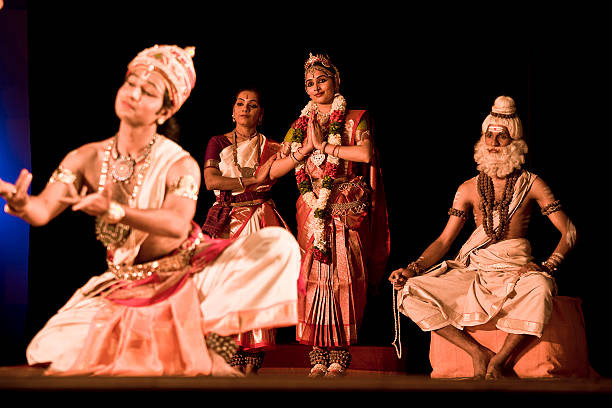 The Indian Classical Dances are deeply rooted in "Natya Shastra".
India has several classical Indian dance forms.
Each of these Indian classical dance forms can be linked to different parts of the country.
Classical and folk dance forms also developed from Indian traditions, epics and mythology.
Indian Classical Dance Forms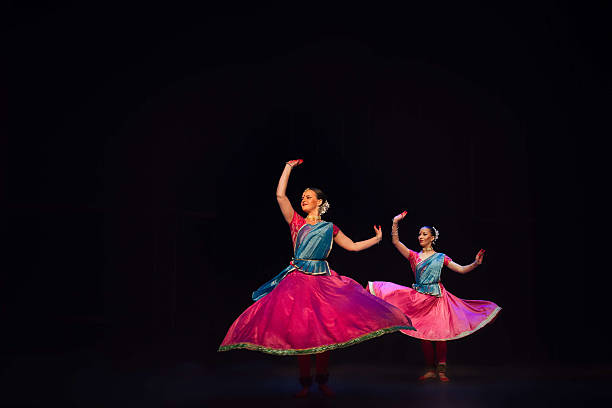 Classical dance of India has developed a type of dance drama that is presented in a form of a theatrical play.
The dancer acts out a complete story through gestures.
Most of the Indian classical dances depict stories from Hindu mythology.
Each dance form epitomizes the culture and ethos of the particular region or a group of people.
The criteria for a dance form to be considered as a classical dance form is the style's adherence to the rules laid down in Natyashastra, which describes the Indian art of acting.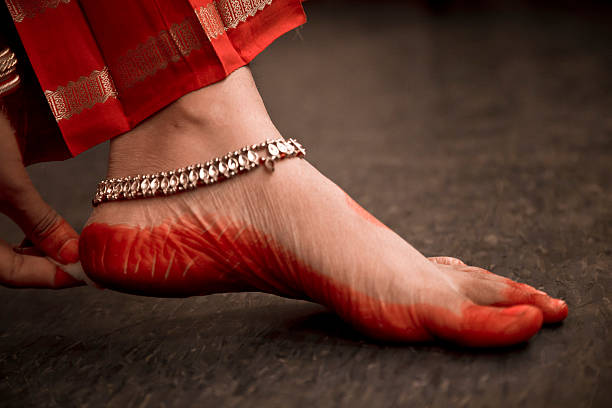 Sangeet Natya Academy
Sangeet Natya Academy is a well-known national academy for performing arts in India.
This academy has classified eight traditional dances as Indian classical dances, namely: –
1. Bharatanatyam (Tamil Nadu)
2. Kathak (North, West and Central India)
3. Kathakali (Kerala)
4. Kuchipudi (Andhra & Telangana)
5. Odissi (Odisha)
6. Manipuri (Manipur)
7. Mohiniyattam (Kerala)
8. Sattriya (Assam).
All the Indian Classical dances have roots in Hindu arts and religious practices.
The dance tradition is classified in the "Natyashastra" and the dance performance is considered excellent if it manages to evoke a "Rasa" (emotion) among the audience by invoking a particular "Bhava" (gesture or facial expression).
Classical dance has been regulated by the rules of the "Natyashastra" and hence all Indian classical dances are being performed only following them.
1. Bharatanatyam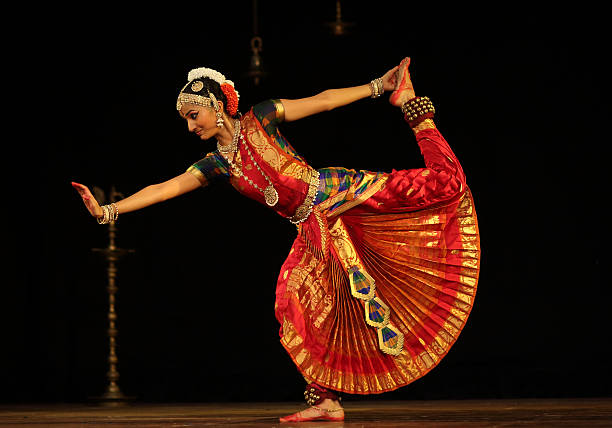 In 1000 BC, this classical dance form originated in Tamil Nadu.
Bharatanatyam is said to be the oldest classical dance form in India and hence is regarded as the "Mother of Indian Classical Dance Forms".
Bharathanatyam meaning
"Bha" means Emotion (Bhava), "Ra" means Music (Raga),
"Ta" means Rhythm (Taal),
"Natyam" means Dance.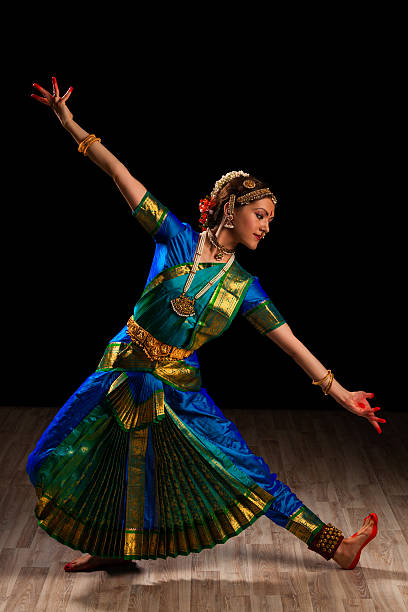 Thus Bharatanatyam is the dance that incorporates music, rhythm and expression.
This dance form strictly adheres to all the rules and guidelines in the Natyashastra, which is the scripture of classical Indian dance.
This form of classical dance is usually accompanied by classical Carnatic music.
In Natya Shastra, we can find the theoretical foundations of Bharatanatyam.
You may have seen that many ancient Hindu temples are decorated with sculptures of Lord Shiva in Bharatanatyam dance poses.
The southern gateway of the Chidambaram temple, constructed in the 12th century, is dedicated to the Hindu god Shiva.
This temple consists of an illustrative sculpture, which consists of 108 poses of the Bharatnatyam, carved in stone. These poses are also called "Karanas" in the Natya Shastra.
Dressing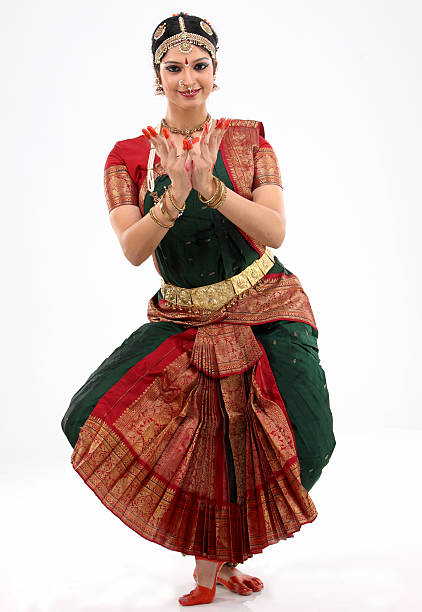 The style of dressing of a Bharatanatyam dancer is like that of a Tamil Hindu bride.
Women dancers wear a beautifully tailor-made sari. This sari is made of a cloth that is specially stitched in pleats and is adorned in front of the waist.
The sari is worn in a special method. And is well complimented with traditional jewellery.
Hair is neatly plaited conventionally and is often beautified with flowers.
A jewellery belt is worn around the waist. While musical anklets called "Ghunghrus" made of small metallic bells are adorned on the ankles.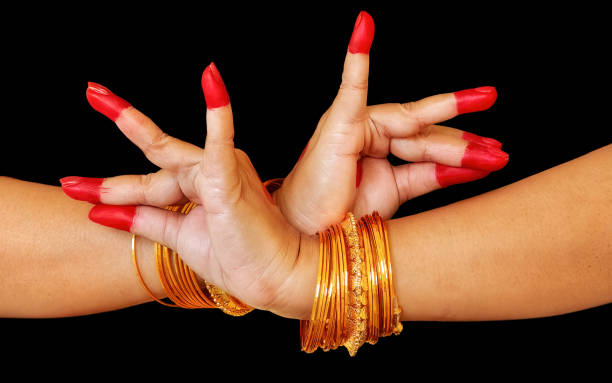 With the help of henna colour, the dancer's fingers and feet are brightened. This helps in highlighting the gestures of their hands and the movement of the feet.
Bharatnatyam is the foremost genre of Indian classical dance.
It originated in the Hindu temples of Tamil Nadu and neighbouring regions.
Traditionally, Bharatanatyam was a solo dance and was performed exclusively by women.
The dancer through this dance form expressed the Hindu religious themes and spiritual ideas.
These themes and ideas were/are related particularly to Shaivism, Shaktism and Vaishnavism.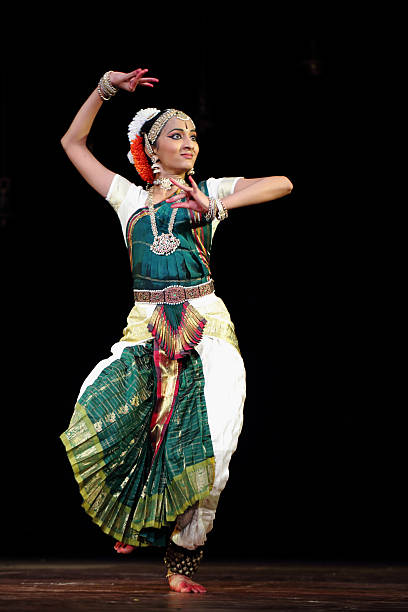 During the colonial British Raj era, Bharatanatyam and other Indian classical dances in India were ridiculed and suppressed.
In today's world, Bharatanatyam has grown to be the most popular classical Indian dance style in India and abroad.
Due to the widespread of the Bharatanatyam dance form, it is mistakenly considered to be synonymous with Indian dance by many foreigners, who are unaware of the diversity of dance forms and performance arts of Indian culture.
2. Kathakali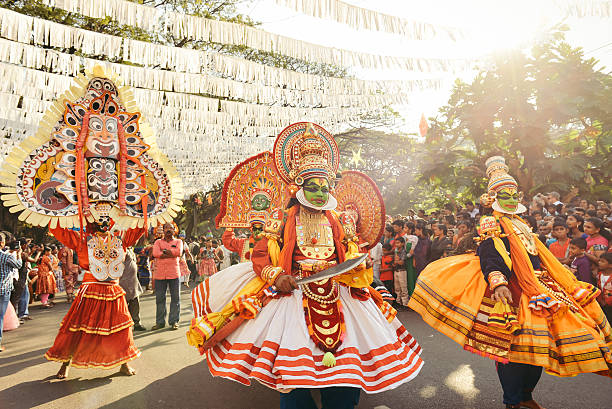 17th century, Kathakali, a classical Indian dance form originated, in the state of Kerala.
Kathakali meaning:
Katha means "story"
Kali means "performance".
This Indian classical dance form is another "story play" dance performance.
Kathakali is a highly stylish classical dance-drama form of India.
Traditionally, this Indian classical dance form was being performed by males. The dancers wear elaborate costumes and colourful face masks.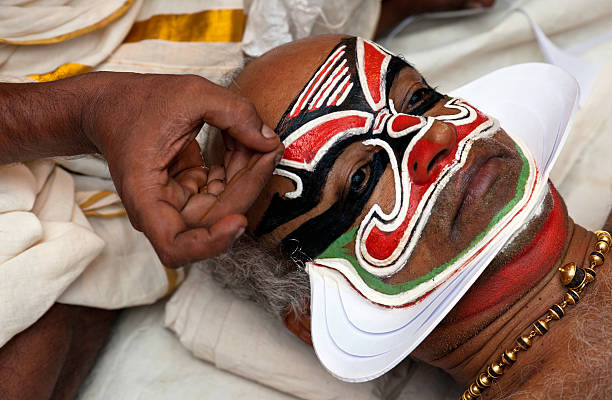 Kathakali dance involves performing plays and mythical legends related to Hinduism. Even if the origin of this dance form is more recent, it has similarities with some of the folk arts.
Dances like Kutiyattam and religious drama traceable to at least the 1st millennium CE, are the roots of Kathakali.
Kathakali performance has dance movements that are related to the ancient martial arts and athletic traditions of South India.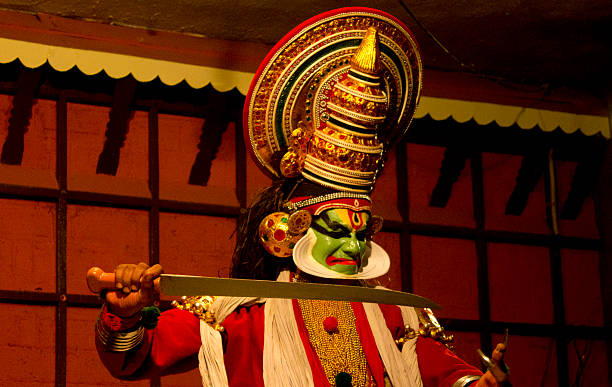 Even if Kathakali is linked to the temple dancing traditions like Kutiyattam, Krishnanattam, and others, Kathakali is different.
In the older dance forms, the dancer-actor along with dancing also had to play the role of the vocal artist.
Kathakali dance form separated these roles, now the dancer's role is to focus on the choreography and the vocal artists would focus on delivering their lines.
3. Kathak
The Vedic Sanskrit word "Katha" was the origin of the word "Kathak".
Kathak meaning:
"Katha" means a "story",
"Kathaka" in the Sanskrit language means "he who tells a story".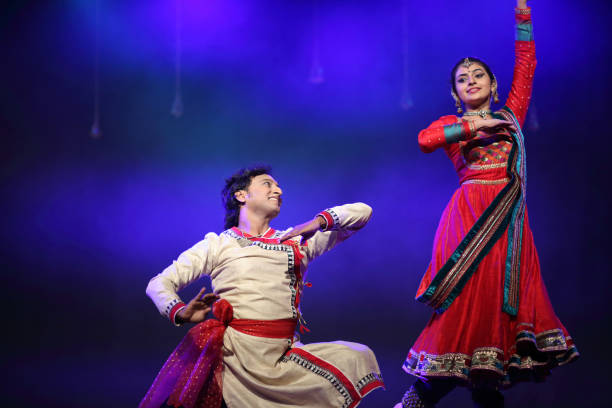 Kathak dance form is credited to the travelling writers and poets of ancient northern India, known as "Kathakas" or "storytellers".
Kathak developed during the Bhakti movement. This dance form particularly incorporates the childhood and amorous stories of the Hindu god Krishna.
Kathak had gained so much importance that it was performed in the royal courts of north Indian kingdoms.
With time, Kathak transitioned, adapted and integrated the tastes and Persian arts.
Kathak also became a part of the Mughal courts of the 16th and 17th centuries. But was later declined and ridiculed in the colonial British era.
Kathak was reborn just like India, simultaneously, when they gained independence.
Kathak dance form is performed in three distinct forms, namely, Jaipur, Benares and Lucknow. These are the names of the cities where the Kathak dance tradition evolved.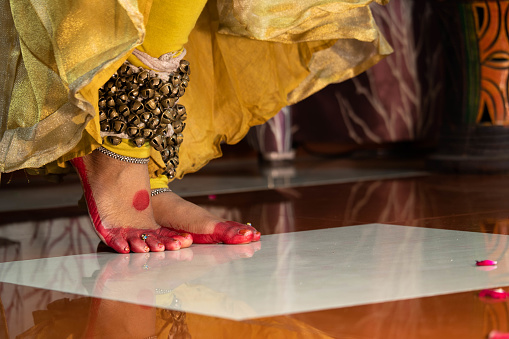 In Kathak dance form, the main focus is on the rhythmic foot movements, adorned with small bells called "Ghungroo ".
The foot movements are harmonized with the music. The legs and torso are generally straight, unlike in Bharatanatyam, where the legs are bent.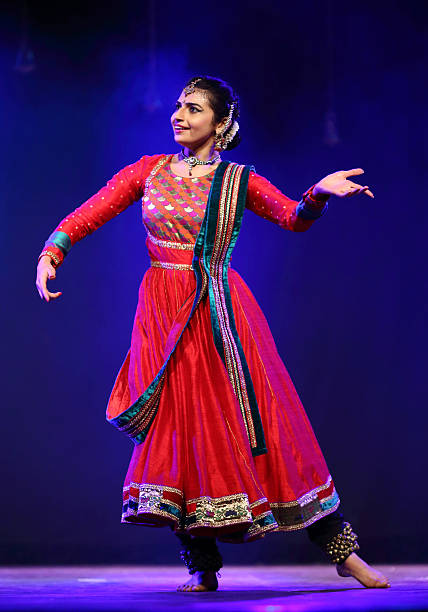 In Kathak, the story is told through expressions based on the gestures of arms and upper body movements like facial expressions, stage movements, bends and turns.
4. Kuchipudi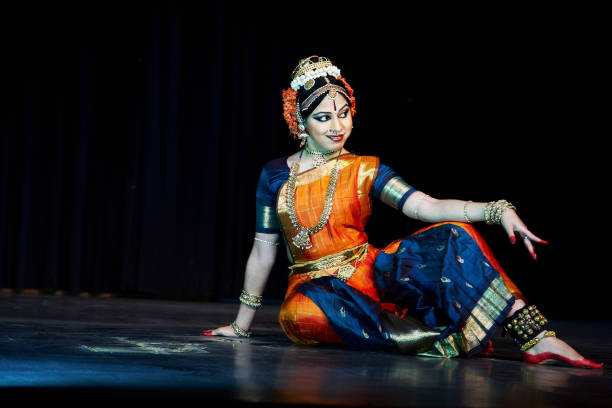 Kuchipudi classical dance form originated in a village of Krishna district, now in the state of Andhra Pradesh.
The roots of this dance form have grown from ancient times. This dance form developed and got prevalent as a religious art form as it was connected with the travelling bards, temples and spiritual beliefs.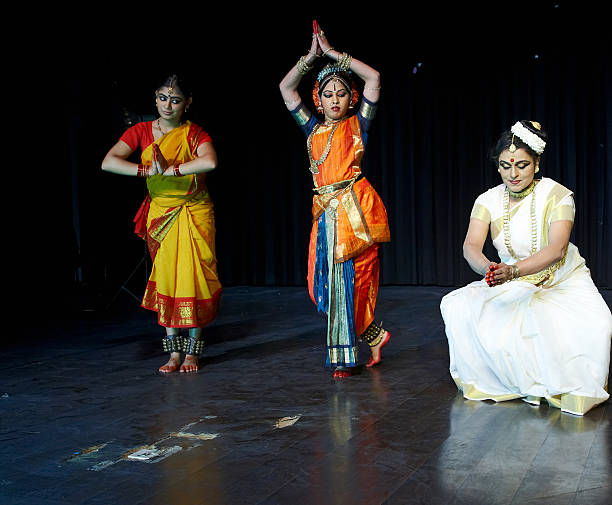 If you look at the history of this dance form, the Kuchipudi dancers were all males, who were typically Brahmins. They would have to dress up aptly as they had to play the roles of men and women in the story.
Modern Kuchipudi tradition believes that, in the 17th century, Tirtha Narayana Yati, and his disciple, who was an orphan, named Siddhendra Yogi, created and structured this art form.
Kuchipudi is largely focused on the Vaishnavism tradition, the god Krishna, and is most closely associated with Bhagavata Mela performance art found in Tamil Nadu.
Bhagavata Mela performance art is also originated from Andhra Pradesh.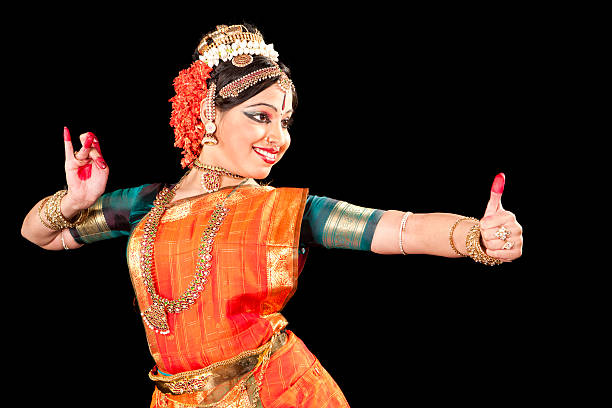 The Kuchipudi performance is a combination of dance and expression.
"Nritta '' means " pure dance and "nritya " means "expressions and rhythmic gestures", that are used as sign languages to express the play.
Vocalists and musicians accompany the artist, and the "tala" and "raga" are Carnatic music.
In today's time, in modern productions, Kuchipudi dancers include both men and women.
5. Odissi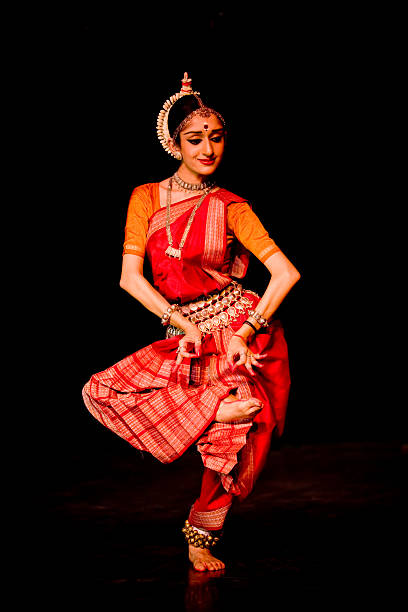 Odissi dance form arises from the Hindu temples of Odisha. Odisha is located in the eastern coastal state of India.
As per history, the Odissi dance was performed predominantly by women.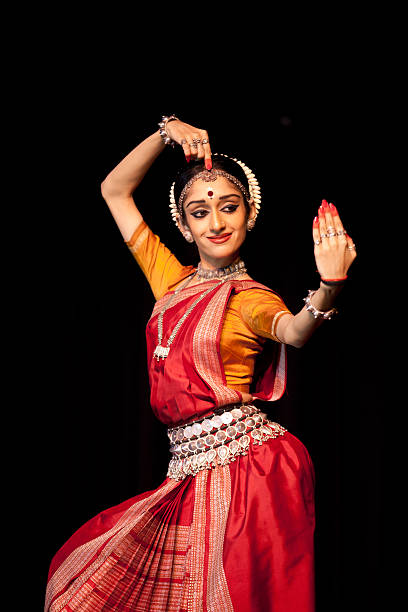 Odissi dance form expresses the religious stories and spiritual ideas of Vaishnavism (Vishnu as Jagannath). It also includes other traditions related to the Hindu gods Shiva and Surya, as well as Hindu goddesses, called Shaktism.
Odissi is traditionally a dance-drama kind of performance art.
The dance form is performed using symbolic costumes, body movements, expressions known as abhinaya and gestures and sign languages known as mudras.
In this dance form, the artists and the musicians play out a mythical story, a spiritual message or devotional poem from the Hindu texts, set out in ancient Sanskrit literature.
6. Sattriya
Sattriya is an Indian classical dance-drama performance art.
Sattriya dance form originated in the Krishna-centred Vaishnavism monasteries of Assam.
This dance form is credited to Srimanta Sankardev. He was a 15th-century Bhakti movement scholar and saint.
"Ankiya Nat" is the term coined for is the one-act play of Sattriya.
These one-act plays are a combination of aesthetic and religious ideas, expressed through a ballad, dance and drama.
The plays are usually performed in the dance community halls of monastery temples, called "sattras ".
The themes of this dance form mostly relate to Krishna and Radha. Sometimes the themes may include other Vishnu avatars such as Rama and Sita.
7. Manipuri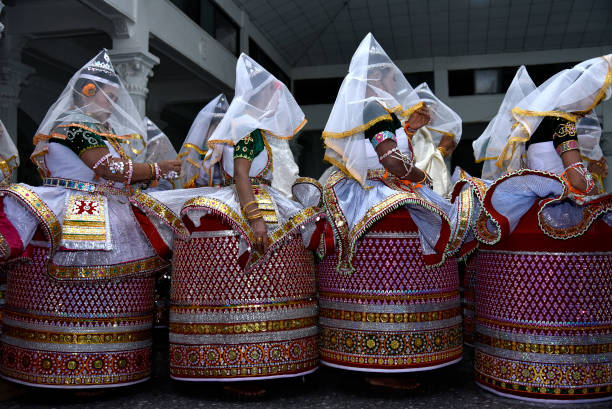 Manipuri dance form is also known as Manipuri Raas Leela dance.
Manipuri dance is a unique form of dance-drama that has its origin in Manipur.
Manipur is a state in the Northeastern region of India, bordering Myanmar (Burma).
This Indian classical dance form is well known for its Hindu Vaishnavism themes.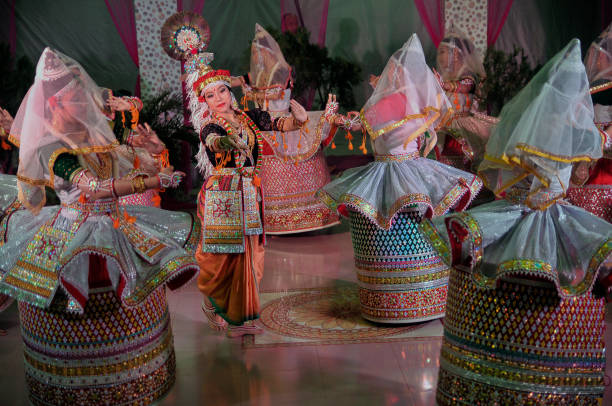 These dance form performances are love-inspired dance – drama of Radha-Krishna called "Ras Lila".
This classical dance form is also performed to themes related to Shaivism and Shaktism.
The Manipuri Raas Leela classical dance form is performed as a team.
This dance form is known for its unique costumes particularly the Kumil, aesthetics, conventions and repertoire.
Kumil is a barrel-shaped, elegantly decorated skirt.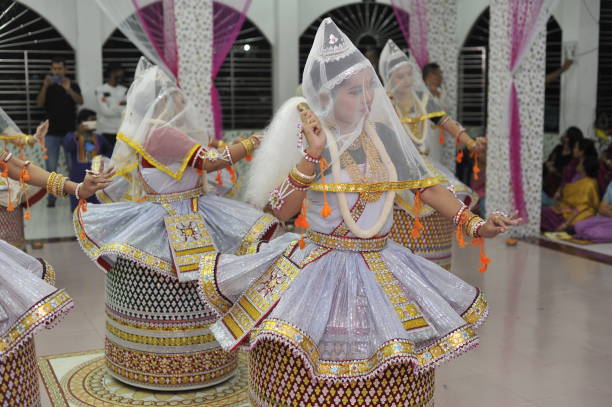 In Manipuri dance form a lot of importance is given to the hand and upper body gestures. This helps the dance form look graceful and sinuous.
8. Mohiniyattam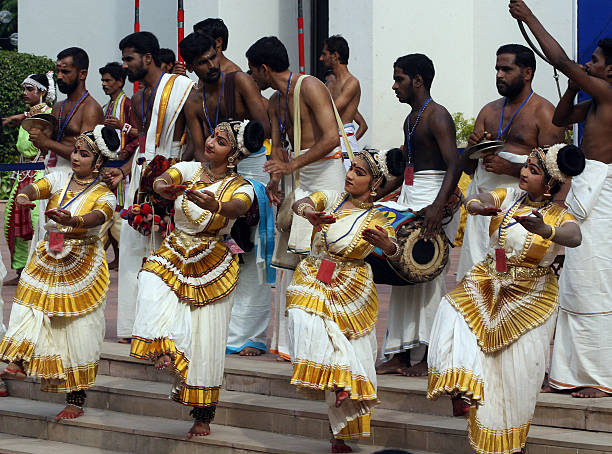 Mohiniyattam classical dance form is developed in the state of Kerala.
This dance form gets its name from "Mohini", the seductress avatar of Vishnu.
As per Hindu mythology, Vishnu became Mohini, so that good can prevail in a battle between good and evil.
Mohiniyattam follows the Lasya style of dance, explained in the Natya Shastra.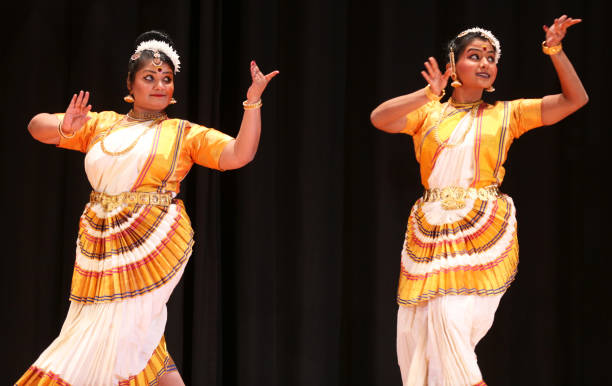 Lasya style of dance is a delicate dance, with soft movements and feminine.
Mohiniyattam is traditionally a solo dance art performance, mostly performed by women.
This dance form needs extensive training as it includes pure and expressive dance-drama performances. This dance- drama has to be in sync with the style of music, with recitation which is timed to a slower melody called, "sopana".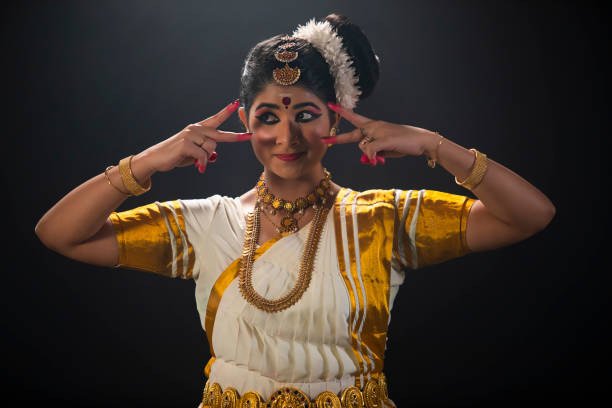 The songs of Mohiniyattam dance form are typically in Malayalam-Sanskrit hybrid called "Manipravala".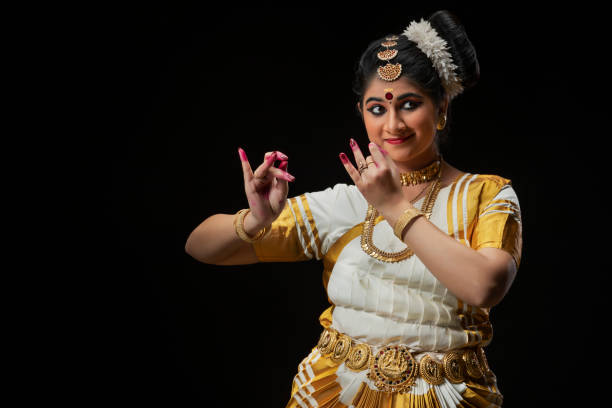 The Indian dance performance is considered excellent, as per "Natyashastra", if the dancer manages to evoke a "Rasa" (emotion) among the audience by invoking a particular "Bhava" (gesture or facial expression).
All the Indian Classical dance forms have been regulated
by these rules of the "Natyashastra."
Happy Dancing!!